Honoring
Bhai Avtar Singh Bhai Gurcharan Singh Ragi
Beyond the world's narrow walls of politics, geography, ethnicity, religion and fear,
Bhai Avtar Singh's voice of spiritual longing and courageous openness of heart flows like
a clear stream reflecting the spiritual longing of all humanity, raising from its depths the universal cry of even the unremembering heart's desire to experience the Divine. His purified, intentionless sound calls poets' and visionaries' dreams down from their intangible flight and, where the Greater Dream has gone unseen, his music opens Heaven to human sight.
With tireless devotion stretching its arms over decades toward the One, he has reached what must come from within to make Gurbani Kirtan the "True Hymn". In every shabad, every note, and every breath he reveals that his is not merely an art form, but an art of formlessness that begins as music then takes the heart, mind and soul in unison past the empty illusions of the finite, past the dark cycles of material attachment and across a bridge of awakening to the realm of our true identity.
Song after song he gathers into a single current of salutation to God, so our false hymns might be swept away, our egos diminished enough to see that in honoring the original music of the Gurus the voice of our soul is not limited but freed and our understanding led toward that Mind which moves eternally. In garlands of sounded and unsounded tones interwoven with struck and un-struck beats, he passes on an essential truth; that to life surrendered in these sacred songs, the Light that waits in all of us comes; a Light that knows our inseparable connection to all men, all life cannot be undone and realizes our infinite human capacity to create, to live, and to love as the One.

The One Voice
By
Adesh Atma Kaur

Adesh Atma Kaur (Deborah A. Goudreault) is a singer and kirtan student in New Hampshire, U.S.A.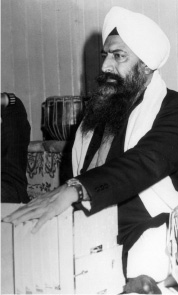 ...............................................................................................................................................................................................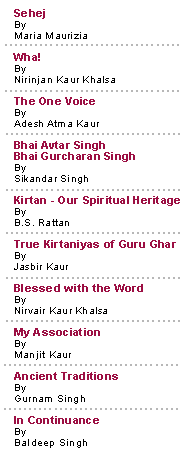 Guru Nanak said, 'Some have the power to sing and define God's power. Some can sing and describe the grace of God, His virtues, excellences, and most unattainable knowledge. Some can sing God who forms the body, who gives it breath, and reduces it to dust. Some can sing God who takes away life and re-infuses it as He sees just. Some can sing God who seems far away and yet face to face keeps all in view.' Some rare few have, in the seed of their becoming, been given a quenchless yearning to sing, with the values and aesthetic of the Gurus, songs of wisdom and transformation that renew and refine the purpose of life. Bhai Avtar Singh is such a singer whose music brings distinguished grace to our existence, and whose ornamented notes of remembering God guide the soul of man closer to the face of the Infinite. He humbly lives the "Unbeaten Music" that transcends maya and from silence resounds, and inspires us all to sing and live where the Essence of life is not promised, but found. His music is not a wild and sudden dance born for one time, one fate, or one chance. His voice will still resonate, light the souls of the universe and open hearts closed by pain and sorrow, long after the stars pass away and the sun is but a glimmering wave outlining the morrow.