Honoring
Bhai Avtar Singh Bhai Gurcharan Singh Ragi
Bhai Avtar Singh and Bhai Gurcharan Singh have been responsible carriers of our spiritual heritage in the form of Kirtan for nearly 85 years, for the first twenty years or so with their father Baba Jwala Singh and later as bards of the Guru themselves along with jori accompanists of varied hues, including legendary Bhai Arjan Singh Tarangar.
The pristine glory of Sikh kirtan maryada and parampara remained incarnated in thought, speech and action by Baba Jwala Singh. Assimilating these values of Kirtan at the feet of their father, Bhai Avtar Singh and Bhai Gurcharan Singh have rightfully adapted themselves to the needs and calls of modern times also, without deviating from the substance given to them by the great
Kirtan - Our Spiritual Heritage
By
B.S. Rattan

Dr. B. S. Rattan is a Sikh scholar residing in Delhi.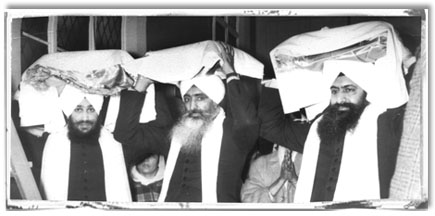 ...............................................................................................................................................................................................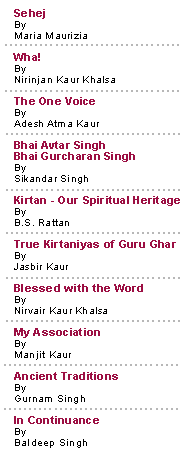 tradition and discipline of devotional singing among the Gursikhs received by them from their father.
Personally, I have been their follower ever since I began to hear the divine word at Amritsar. For the last forty years in Delhi my most cherished moments have been those when I have sat in congregation listening to Kirtan being performed as a devotional offering by Bhai Avtar Singh and Bhai Gurcharan Singh, or talking to them about the spiritually meritorious ones, or listening to their wise explication of deep meaning inherent in gurshabad.
Steeped in tradition, both Bhai Avtar Singh and Bhai Gurcharan Singh have always remained open to the needs of the changing time. With their core stable and eternal, they have done so much, carrying the message of the Guru and the serene joy it gives to the recipient, through kirtan and katha, the world over. Theirs has been a contribution of institutional magnitude and yet their humility and the desire to underplay their service has been a living example of the code by which those blessed by the Guru live.
From the purely academic point of view their contribution has been of the highest order. Their two-volume notation work of rare gurubani kirtan shabad-reetan published in the nineteen seventies by Punjabi University, Patiala, is a contribution whose full merit has yet to be gauged. As responsible carriers of tradition, they have drawn Kultar Singh, son of Bhai Avtar Singh, and Bhai Baldeep Singh, their grandnephew, into the mainstream of kirtan. Thus, they have succeeded in passing on the heritage received from their father to the next generations. As a symbolic gesture of iterating the need to ever remain true to our tradition and discipline of kirtan, Bhai Avtar Singh performed kirtan at the sacred place of Guru Arjan Dev, Sri Harmandir Sahib, Amritsar, a few months ago by playing on Taus--something that happened there after a lapse of nearly seventy years.
Ripe and ready for being fused with the Akal, Bhai Avtar Singh and Bhai Gurcharan Singh have been blessed by the Guru to live a life of simran, jap and dhyan which are epitomized in the congregational singing of gurbani, i.e. kirtan. This has been their livelihood and this is the lifeblood of gurupanth, of which Bhai Avtar Singh and Bhai Gurcharan Singh have been living embodiments.