Honoring
Bhai Avtar Singh Bhai Gurcharan Singh Ragi
In 1985, steeped in a craze for aviation, I made my first ever solo trip to my ancestral village to meet my grandfather in order to procure the Punjab domicile certificate. My grandpa, Gyani Bhagat Singh (1901-1986), was in so much joy when he learnt that I played a bit of tabla, that he went to his young cousin's house to fetch the tabla. Then he sang and sang as I tried to keep pace with him. He taught me the first shabad-reet in raag gauri. Subtly, the seed of Gur-Kirtan had been sowed that was to outgrow all love and passion I had to be a fighter pilot and an astronaut. The history of Kirtan was my grandpa old.
It was only in 1987 that I finally knocked at the residence of Bhai Avtar Singh in Gurudwara Mata Sundri. My grand aunt Bibi Amar Kaur opened the door and first introduced me to the portrait of my great grand uncle Baba Jwala Singh and to the taus of Baba Sharda Singh that stood next to it. I also saw the two volumes of Gurubani Kirtan: Pracheen Reet Ratnavali, 497 shabad-reets (compositions) that my grand uncles had written for the Punjabi University, Patiala, a voluminous undertaking perhaps not attempted before by exponents of any tradition.
The history of Kirtan was now my great-grand-uncles' generation old.
By then I had become very curious to know more about the family history and my ancestors but all questions I shot at my grand uncles were referred to my grand mother who, they said, being much older was the family's grand repository. Bibi Sant Kaur (1900-2000), my grand mom, still began at midnight with Sukhmana, her panj padarthi nitnem. She became my storyteller. She told how our ancestors were given the title 'Chaudhary' by the third guru, Amar Das. They were the architects and constructors of all works from the third till the tenth gurus' times. She emphasized to me that, as Kirtan was the blessing of Guru Arjan to the family ancestors, I must take good care of this invaluable treasure. She also spoke of the times in the 18th century when my ancestors had a khanda in one hand and a dhaal in the other, yet kept a saranda slinging at the back. Inspite of the dire circumstances, persecution and even facing extinction, the Khalsa never lost the cultural, spiritual and temporal riches endowed upon them by the gurus.
The sense of history was complete…
In Continuance
By
Baldeep Singh

My mother Sukhjit Kaur, lovingly called 'mithi auntie', was a talented dholak player, gifted with a beautiful voice. I can remember, as a toddler, sitting comfortably in her lap, slipping in and out of sleep to the constant pulsing of her breath at my back, to the gentle massage from her arms that kept the rhythm on the dholak and her sweet voice resonating from above. That was the dawn of Kirtan for me.
One evening in the year 1980, listening to the daily Kirtan broadcast from Jalandhar Radio, a unique rendition of 'Ek Pita, Ekas ke ham barak' completely mesmerized me. That was the first experience of the chords resonating within. An unusual magnetism was compelling me towards that singing. Then suddenly my mom entered the room and exclaimed, 'That's Chachaji!'
Soon the history of Kirtan for me was my granduncles' generation old.
Enslaved, evening after evening I would sit glued to the radio, hoping and often praying to hear the singing of my granduncles, whom I knew only through a few time-transcending shabad-reet renditions that were played over the radio.
Two years later, at a major festival at the gurudwara in Sector 34 in Chandigarh, two towering personalities entered the divan, walking with grandeur and masti. There was something in them that conquered me. I realized only too late that I was love-stuck. My happiness was short-lived as it dawned upon me that I had been reserving this love for 'the chachajis'. Had I betrayed that love? Their magnetism was such that the moment they stood again like tall unassailable mountains, I reached a compromise with the betrayal and hoped that they could actually be the chachajis. Soon after a very respectable looking gentleman, who I found out years later was Bhai Sahib Ashok Singhji of Bagrian, stood up to introduce the two elderly special guests that I had recently been in love with. He spoke and spoke of their achievements, contributions and eventually introduced them to the gur-sangat as Bhai Avtar Singh Bhai Gurcharan Singh Ragi! My joy knew no bounds. As they sang in joy I hadn't witnessed before, my mind and soul danced in an experience never felt before. I had discovered my Granduncles. We had langar together as my proud dad told them of my prowess on the tabla. I got only blessings.

...............................................................................................................................................................................................
Bhai Baldeep Singh is Managing Trustee of ANAD FOUNDATION, organizer of LAYA DARSHAN and JASHAN.
The 90's came after my renunciation of flying as a career. The chance of studying with living legends became a reality as my actual journey took off. From reviving the lost instruments by instrument making, learning jori/pakhawaj in order to revive the near extinct oldest school of percussion, reviving the grammar of raag-naad, documentation and preservation activities were more enriching than ever expected. One by one, at the feet of my granduncles Bhai Gurcharan and then Bhai Avtar, I began imbibing the shabad-reets from guru-times, learning in the process how the Guru sang a particular dhrupad, chantt, vaar, dhuni, ghorian, allahunian, sadd, to the way Guru Arjan sang sultaal, and the way Nanak the Guru sang raag asa, tukhari and even gauri-poorbi-deepaki.
Looking back, I am humbled and bow with an enormous gratitude towards the One who thus wrote the script. To learn the art of percussion, Bhai Gurcharan sent me to his teacher, Bhai Arjan Singh Tarangar, Dr. Sumati Mutatkar referred me to Ustad Fahimuddin Dagar for voice culture, Gyani Harbhajan Singh appeared one day in 1993 and taught my hands, already adept in designing and building aero-models, to make musical instruments that had been extinct for decades. I have been further enriched with the love and compassion received from so many other wondrous bearers of excellence: Maharaj Bir Singh Namdhari, Bibi Jaswant Kaur, Gyani Darshan Singh, Maharaj Thakur Singhji, who chose to live in anonymity for over 40 years, and Ustad M Hafiz Khan of Lahore, to name just a few.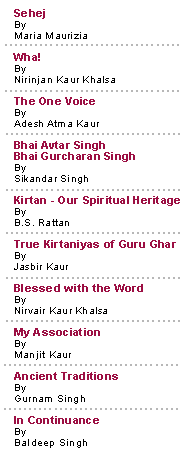 It seems that the community, and the nation as well, still sleep, unaware of the rich oral intangible heritage that makes every civilization and way of life unique. Even those who wake up and realize their heritage often remain intoxicated with the relentless worship of money and power, whereas the quest for mere excellence in inner virtues and in various art manifestations, which seldom leads to capitalistic success, is overlooked as poverty and deficiency. Year after year, the elder masters, considered phenomena in their prime time, have died in anonymity. Such forgetfulness by the society has ensured that the young continue to be deprived of role models and continue to degenerate into beings without the knowledge or tools to be procreative benefactors to serve the nation and the society.
Two masters are fast walking towards dusk. They never became consumerists of the sacred art forms they served. They are leaving behind a legacy of, perhaps, an unparalleled contribution. They have never sought attention for themselves and, with unwavering enthusiasm and pride, celebrated the vidya that they have lived for over six decades. Unfazed, unadulterated and uncorrupted by the Kaliyuga, they walk with the same pride, sense of dignity, commitment, wisdom, contentment and humility that adherence to the timeless legacy of a priceless heritage can only bring. My eternal salute to them…